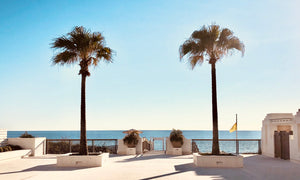 Our Story
At Beach Made Easy, we believe in the trip, not the destination. We recognize that while at times life can be fast-pasted, stressful, and chaotic, life at the beach is meant to be simple. It should be easy. With this in mind, we set out to create a company centered upon individualizing every customer experience. BeMe fosters this mentality to build authentic relationships and establish a sense of community that is unlike any other.
The gift of life is made more magical on the beaches of 30A. So, cheers to the journey and every adventure encountered throughout. It is our mission to serve you along the way, working to help create memories that will last.
Learn More
Our Communities
Check out the communities that make life on 30A so special...
Rosemary Beach
A quaint square with plenty of boutique shopping, art galleries and a wonderful wine shop allow for a great afternoon out followed by drinks and snacks at a number of places. 
Some of our favorite spots include Paradis, The Pearl Hotel, and Pescado rooftop.
Order Now
Seacrest
Seacrest is home to the only Starbucks on 30A, Lola Coastal Italian, and LaCo Mexican restaurant, which serves up some delicious tacos, burritos, and margaritas.
The square offers live music almost daily during season and bike rental is available. 
Order Now
Alys Beach
The design vision of Alys Beach was based on Moorish and Mediterranean villages and architectural styles of Bermuda. 
The restaurants are among some of the best… including The Citizen and the iconic, George's. 
Order Now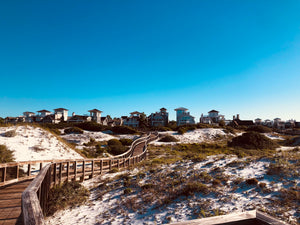 Seagrove
Like the other communities along 30A and Florida's Emerald Coast in general, Seagrove Beach is known for its scenic and appealing "sugar white" beaches and blue/green waters.
Home of one of the only gas stations on 30A. Tom Thumb has ice, beer, and gas so stock up. The Old Florida Fish House is also a staple among local restaurants. 
Order Now
Seaside
Seaside's commercial hub is located at the town center.
Seaside houses plenty of boutique shops, bars and restaurants. The sidewalks along 30A host a line of food trucks for a casual bite. The Great Southern and Bud and Alley's are great options for upscale menus.
Order Now
Watercolor
Watercolor homes are based on the vernacular architecture of southern wood homes with features that include large wraparound or screened porches, wood columns and siding, and a metal roof with deep overhangs.
Wine World, Fish Out of Water, and The Beach Happy Café are all great spots for a wonderful meal. Boutique shops and The Watercolor Inn finish out the commercial offerings.
Order Now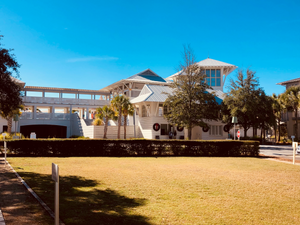 BLUE MOUNTAIN
This beach neighborhood draws its name from the blue lupine flowers that sway in the coastal breeze and the fact that the area is home to South Walton's highest elevation. 
One of our favorite spots on 30A is Blue Mabel. The menu is clever and the food is executed to perfection. A great bourbon selection to top the night off.
Order Now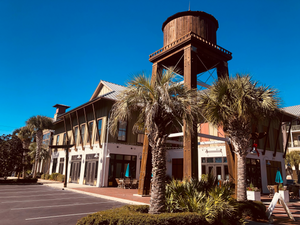 GULF PLACE
This is where we call home. A beautiful beach that is allows quick access to a litany of restaurants.
Our go to spot is Shunk Gully. For $13, the owners will fire up a dozen of the freshest oysters you can find. With unobstructed views of the Gulf, grab a spot on the upstairs rail, a drink, a dozen and watch the magical sunsets that only 30A can provide. 
Order Now
DUNE ALLEN
Located at the western end of 30A, life here is quieter. It's laid back. 
It's where you find the other Tom Thumb gas station on 30A. Dune Allen is responsible for The Vue on 30A which has an amazing outdoor space for drinks and dinner. Get a reservation because it fills up quick. 
Order Now